FOR IMMEDIATE RELEASE
March 22, 2018
Greenwood gets head start on spring construction
Busy 2018 project list includes Surina Way to Market Plaza connector, Smith Valley roundabout, Stop 18 Road, Meridian Street improvements and two new parking lots
GREENWOOD, Ind. – The Greenwood Redevelopment Commission (RDC) today released a list of more than $9 million in development-driven road construction kicking off this month. Greenwood plans to move forward several projects to revitalize its downtown area, known locally as Old Town.
"The momentum for Old Town Greenwood continues," said Mayor Mark W. Myers. "It will be another busy year of impactful projects to position our city for success, both now and in the future. As construction projects begin, we want to make sure that community members are informed of schedules and potential road closures."
Closure for the Surina Way to Market Plaza connector road began this week and is expected to last approximately 60 days. During construction, the Greenwood Community Center will be accessible via Washington Street only. Our Lady of the Greenwood Catholic Church and School will be accessible via Meridian Street south of the project.
Once complete, the road will feature sidewalks, decorative lighting, new landscaping, and an innovative bioswale drainage system. In addition, approximately 160 parking spaces will be added through a partnership between the City of Greenwood and Our Lady of the Greenwood Catholic Church.
Other project elements include stormwater upgrades to the Greenwood public parking lot to the west of the library and improvements to Meridian Street.
This week, the city also began construction on Stop 18 Road just west of U.S. 31. The project includes widening, stormwater and driveway improvements, and a dedicated right-turn lane. If all goes to plan, work will be completed in late May. Stop 18 Road provides access to Greenwood Middle School and Freedom Springs Aquatic Center.
Construction for the roundabout at Smith Valley Road and Madison Avenue is slated for June 1 and will last approximately four months. The roundabout will reduce traffic delays, back-ups and increase safety for the heavily trafficked intersection.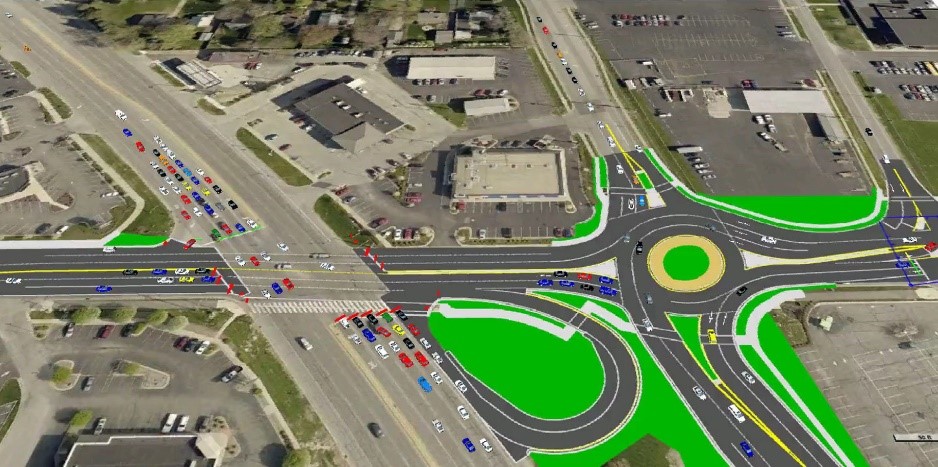 Last week, the RDC approved a contract to begin construction on Madison Ave. between Pearl and Noble Streets. The project includes an enhanced multi-use 12-foot wide trail for pedestrians and bicyclists, two marked pedestrian crosswalks,decorative lighting, a pedestrian hybrid beacon signal at Euclid Avenue, and several streetscape improvements. Construction will begin this April and is scheduled to finish in September.
"These projects continue our goal to make Greenwood a more connected, accessible city," said Myers. "We're looking forward to a productive spring."
For more information and ongoing project updates, visit greenwood.in.gov.
###