EXTRA SPACE
*Construction Notice*
June 11, 2018 Smith Valley Road will be CLOSED west of Meridian Street to US 31, Madison Avenue will be closed at Smith Valley Road south to Mercator Drive, please refer to detailed closure map here.
Please see the presentation boards from the January 2018 Open House below. Check back often for more information in our newsletters.
"Smith Valley Road/Madison Avenue" Newsletter - Volume 2
"Smith Valley Road/Madison Avenue" Newsletter - Volume 1
"Smith Valley Road/Madison Avenue" FAQs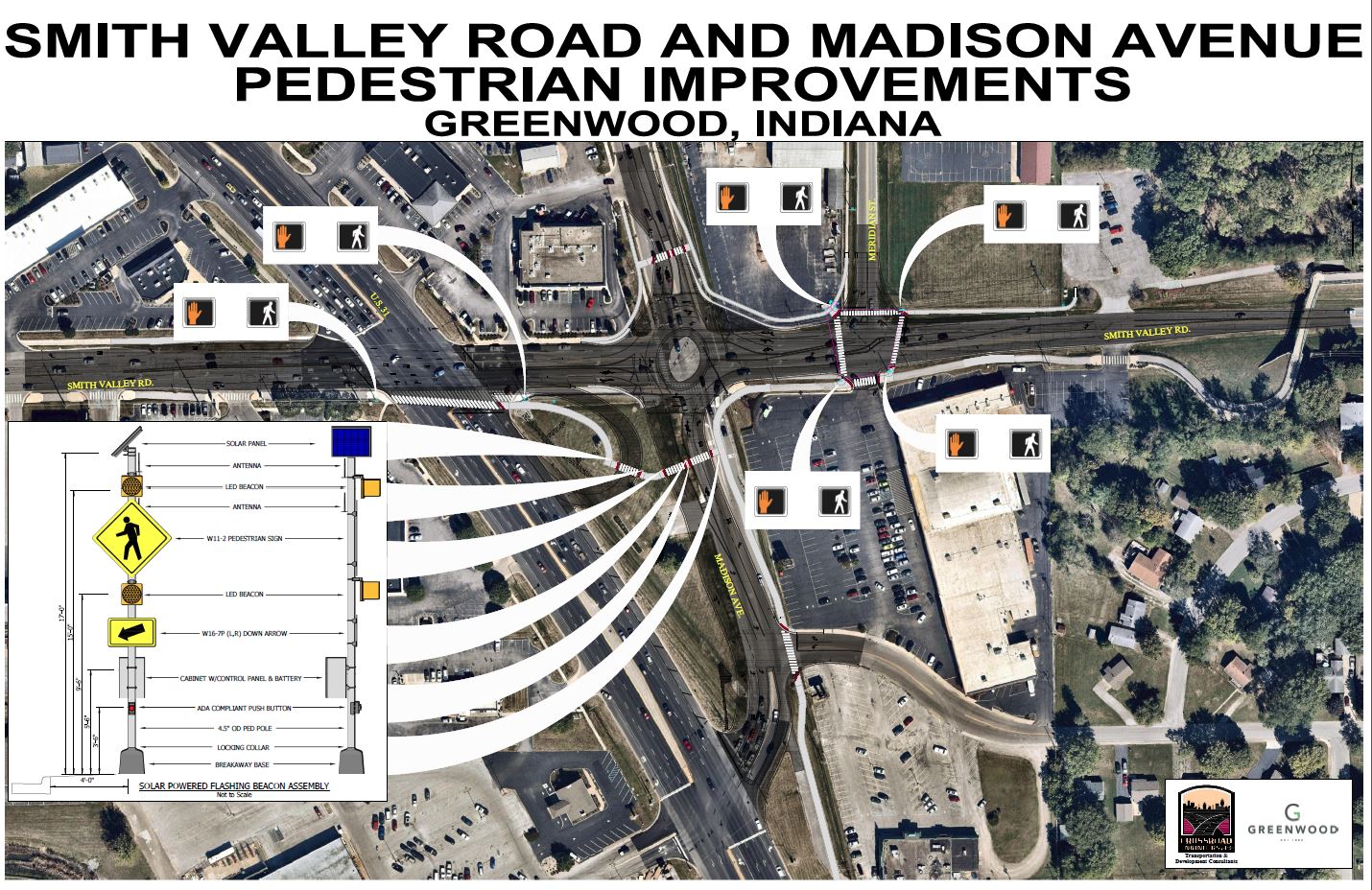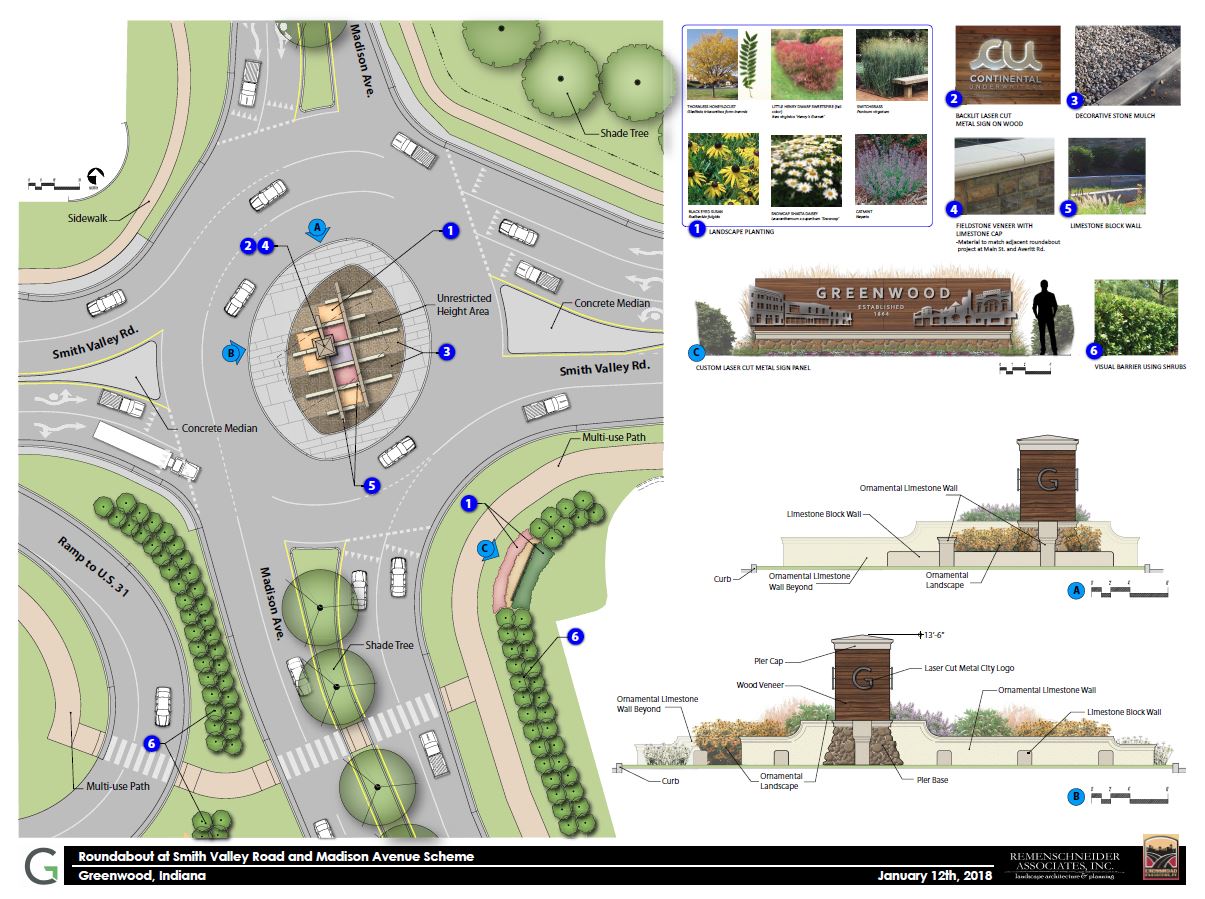 EXTRA SPACE
EXTRA SPACE
Old City Park, one of the city's most storied parks located in the heart of downtown, is being completely re-imagined. The park will feature a promenade – designed for both pedestrians and bicyclists – providing access from Madison Ave. to Meridian Street.
The promenade will run adjacent to Mrs. Curl, Greenwood's legendary ice cream shop. It will also connect to the planned expansion of Pleasant Creek Trail, providing a path into Craig Park and the Greenwood Amphitheater.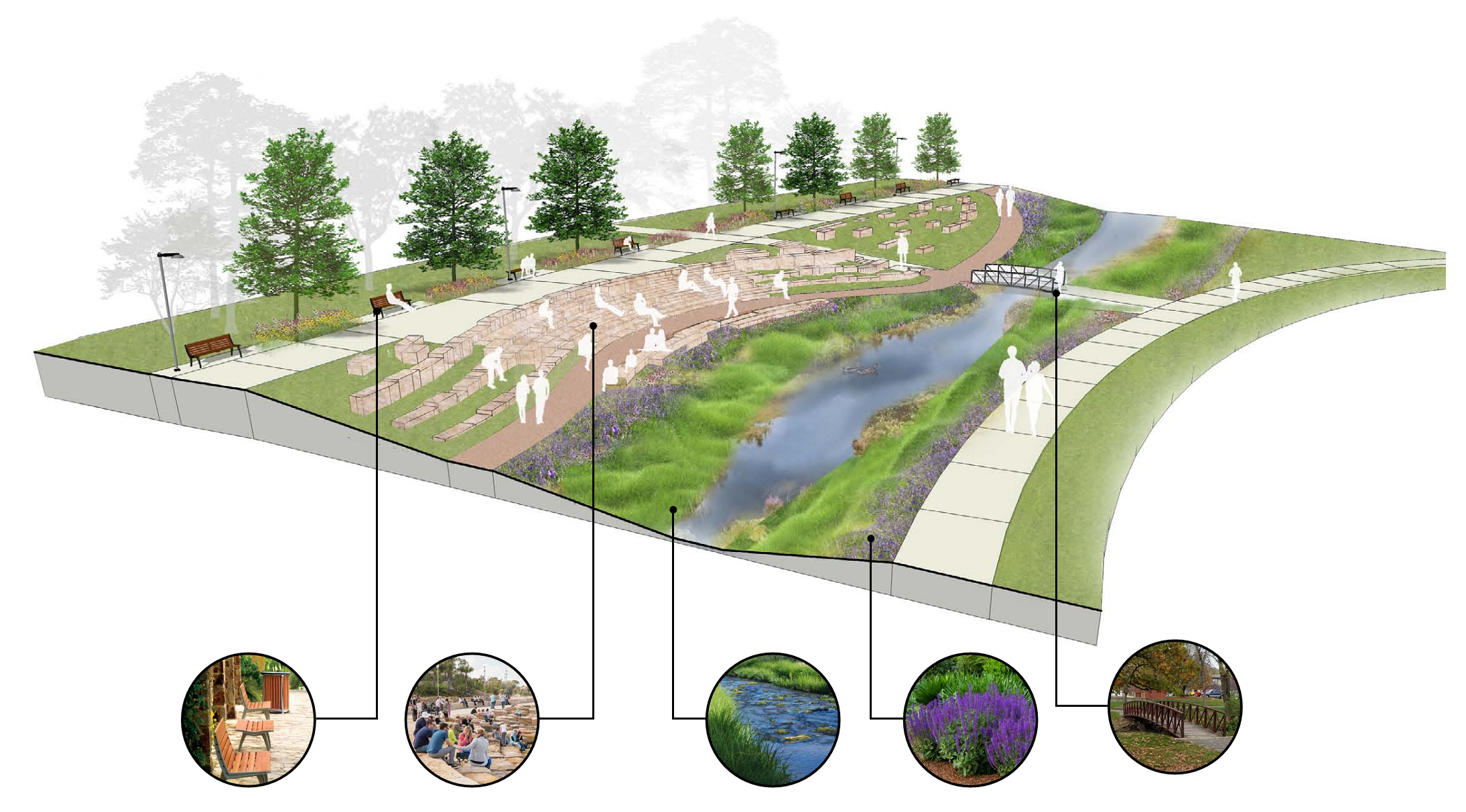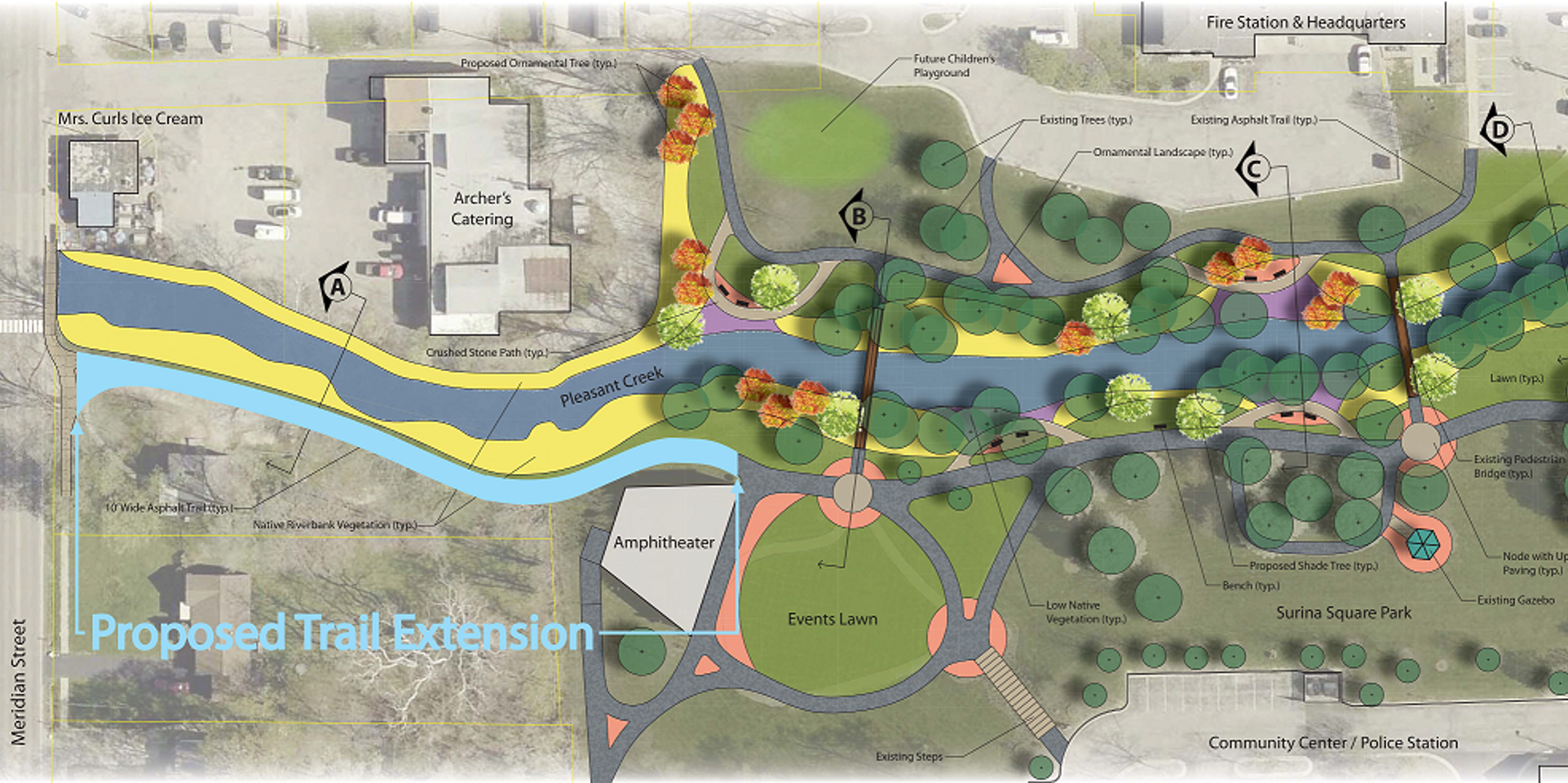 EXTRA SPACE
EXTRA SPACE
Greenwood is taking advantage of the once-in-a-lifetime opportunity to transform the heart of the city.
GOALS
Transform the heart of Greenwood, facilitating a revival of downtown.

Offer diverse amenities and a variety of opportunities to live, work and play.

Create an attractive destination with unique, vibrant public gathering spaces.
THEMES
Connectivity for trails, parks and other public assets

Dynamic gathering spaces

Walkability

Improved roadway connectivity

Seamless integration of greenspace and natural elements
MAJOR HIGHLIGHTS
9 miles of new or reconstructed streetscape

9 acres of new or upgraded open space

75,000+ sq. ft. of potential retail/office space

Proposed 450+ apartments; 130+ townhomes
REDEVELOPMENT AREAS
Greenwood Middle School property

North City Center parking lot

Old City Park

Other city-owned properties
DEVELOPMENT STRATEGIES
Mixed-use properties – residential, office and retail

Bicycle and pedestrian infrastructure

Open spaces woven throughout redevelopment sites

New standards incorporating sustainable site principles
STREETSCAPE ENHANCEMENTS
Main Street

Madison Avenue

Market Plaza
INTERSECTION IMPROVEMENTS
Main St. and Madison Ave.

Main St. and Market Plaza

Madison Ave. and Market Plaza

Main St. and Meridian St.
ROADWAY PROJECTS
Removal of Machledt Drive

Connection between Market Plaza and Surina Way

Additional east-west connection between Madison Ave. and Meridian St.

Roundabout at Madison Ave. and Smith Valley Rd.
GYMNASIUM OPTIONS
INITIAL PROJECT ESTIMATES
Old City Park Improvements - $4.6 million

North City Center Parking Lot Redevelopment - $11 million

Market Plaza/Surina Way Connector Road - $2.6 million

Meridian St./Main St. Intersection Improvements - $800,000

Madison Ave. (Pearl St. to Smith Valley Rd.) - $5.5 million

Madison Ave./Smith Valley Rd. Roundabout - $1 million

Main St. (Meridian St. to Market Plaza) - $3.7 million

Middle School demolition - $1 - 1.5 million
PUBLIC OPEN HOUSES
First open house – Thursday, March 9 at 6 p.m. at City Center building

300 S. Madison Ave.




Greenwood, IN 46142

Additional public open houses will take place throughout the process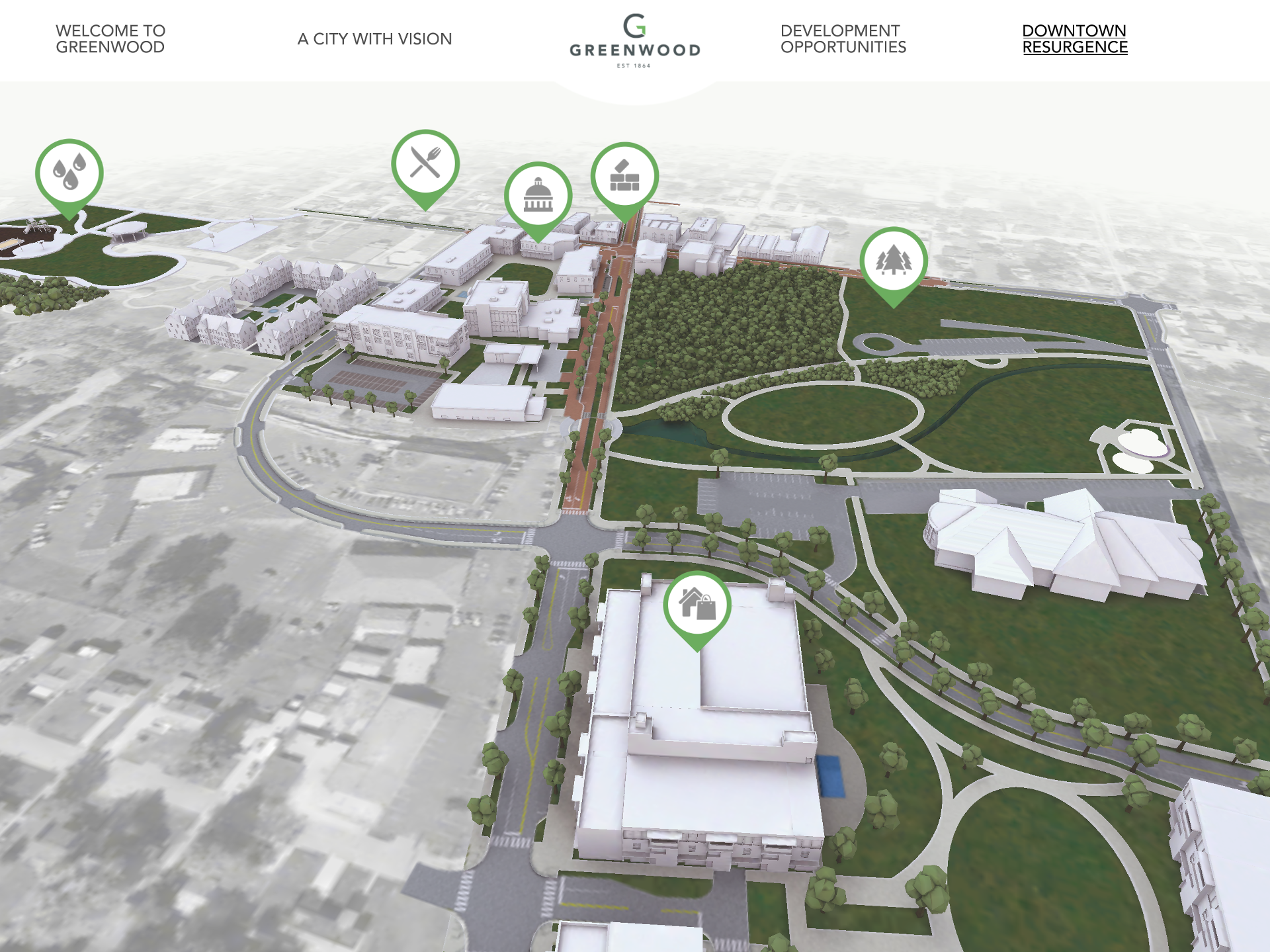 EXTRA SPACE
EXTRA SPACE
Indy Fuel owners Jim and Sean Hallett are committed to cultivating youth sports in Central Indiana. The Halletts have announced a proposal to develop a sports and family entertainment destination along Interstate 65 in Greenwood.
The proposed project, developed by Hallett-owned Indiana Ice Arenas LLC and Indianapolis-based Gershman Partners, includes more than $40 million of private investment and would encompass 60 acres of long-admired real estate along I-65, south of County Line Road.
There are two components to the development. The first, Greenwood Sportsplex, serves as the anchor destination. The 175,000-square-foot facility would house two ice rinks, two turf fields (convertible to two additional ice rinks), five basketball courts (convertible to 10 volleyball courts), a fitness/training facility, pro shop, locker rooms and food service facilities.
The second component is a multi-phased development. The initial project includes entertainment, dining and hospitality destinations. Gershman Partners would invest an additional $15 million and has initial agreements in place with Xscape Theatres and Main Event Entertainment to serve as anchors.
COMBINED DEVELOPMENT DETAILS
Developers – Indiana Ice Arenas LLC and Gershman Partners
60+ acres
$40+ million in private investment
East of I-65, south of County Line Road, west of Graham Road
Greenwood Sportsplex
Retail/dining/entertainment center

Xscape Theatres
Main Event Entertainment

Convenience store and fueling station
Hotel
GREENWOOD SPORTSPLEX
Indiana Ice Arenas LLC (Indy Fuel owners Jim and Sean Hallett)
15+ acres
175,000 sq. ft.
$25 million in private investment
Two (2) ice rinks
Two (2) turf sports fields convertible to two (2) additional ice rinks
Five (5) basketball courts convertible to 10 volleyball courts
Performance fitness/training facility
Food service facilities
Pro shop
Medical facility
Anticipated opening in 2019
5 adjacent acres for future medical and entertainment development
RETAIL/ENTERTAINMENT CENTER
Gershman Partners
38+ acres
$15 million in private investment
Xscape Theatres (54,000+ sq. ft.)
Main Event Entertainment (49,000+ sq. ft.)
Approximately 10 outlots (restaurants, retail and commercial development; 0.88 – 1.84 acre lots; some lots in negotiation, some lots available)
Improvements to County Line Road (including traffic signal into the property)
Utilities and drainage
Other necessary infrastructure improvements
HOTEL
3.5 acres
200 rooms
Located adjacent to Greenwood Sportsplex
Land to be purchased by Indiana Ice Arenas
CONVENIENCE STORE AND FUELING STATION CENTER
2 acres
Southeast corner of County Line Road and Graham Road
GREENWOOD REDEVELOPMENT COMMISSION INCENTIVES
Contribution of up to $3.7 million for construction of site improvements on Gershman entertainment and retail development center
Contribution of up to $1.8 million for off-site infrastructure improvements on County Line and Graham roads
Reimbursement of up to $3 million for capital improvements for Greenwood Sportsplex payable over 10 years contingent upon continual operation
ADDITIONAL DETAILS
Greenwood Redevelopment Commission (RDC) has signed non-binding letters of intent with both Indiana Ice Arenas and Gershman Partners
RDC intends to complete project agreements with both on or before Aug. 31, 2017
Both developers must demonstrate sufficient financial ability to fund construction and operation of respective portions
Development must be taxable absent special exception granted by City of Greenwood
REQUIRED APPROVALS
First RDC meeting and presentation on project details/proposed incentives (June 19)
Second RDC meeting and vote on financial incentives on (July 11)
Board of Zoning Appeals hearings on standard variance requests
Advisory Plan Commission approval of primary plat
Advisory Plan Commission approval of secondary plat and site plan
All necessary approvals from INDOT and the City of Indianapolis for County Line Road improvements
EXTRA SPACE